I like to say that the Toyota Way is a socio-technical system on steroids. A test for all our lean systems is the question of how well we integrate people with process (the social with the technical). Nowhere does that come together more than in the form of standardized work and kaizen.

— John Shook
This quote from LEI Senior Advisor John Shook kicks off an ambitious three-part series that drills down into the meaning of standardized work and how it embodies both the technical and social dimensions of work at the micro-level at all times. Initially published in 2009 when he was LEI's president, the series is a classic example of deeply knowledgeable writing on lean essentials, capturing its essence at the personal and practical, the workstation, and the system.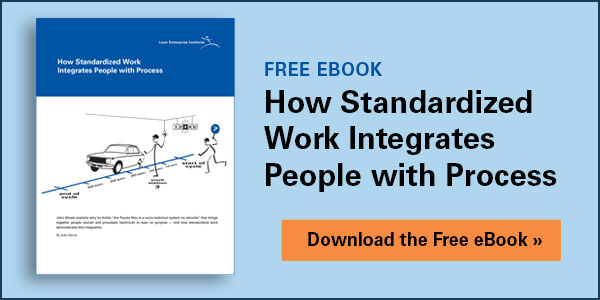 In part one, Shook expands on five missing pieces in your standardized work:
Don't confuse standardized work with work standards.
Don't confuse standardization with commonization.
Don't impose standardized work without providing a structured improvement process and a clearly defined, unambiguous means of improving it (kaizen).
Practice, practice, practice.
Don't forget the critical role of the leader/manager.
In part 2, he elaborates on the need for patience and discipline over time, noting:  "There is a saying in Japanese, 'Three years on a rock,' meaning that it takes about three years to deeply learn any subject of substance."
This advice moved one reader to comment, emphasizing a key statement from the article: 
And in the third part, Shook shares an introductory outline of standardized work, applying elements of LEI's Three-P framework of Purpose, Process, and People.
Please enjoy this series, and share comments and or questions. How is your standardized work coming along? 
Key Concepts of Lean Management
Get a proper introduction to lean management.