Part one of two. Read part two, which describes the five areas where a coach will help leaders execute a successful organizational transformation.
Organizational transformation is first and foremost a process of personal growth by leaders, which requires reflection, self-awareness, and humility. Before expecting such a dramatic change at the team or organizational level, leaders must deeply reflect on the company's current state and desired future. This reflection inevitably invokes a struggle within every leader, which catalyzes their desire for change, activating the pull needed to take the necessary steps toward that new vision.
To enlist the active participation of peers and team members, leaders must, above all, gain their trust before helping them to see uncomfortable truths — to stoke the very same struggle within each team member so that they, too, feel the urgent need to change.
None of this is easy. Getting to the point where the need for change is accepted and prompts a coordinated response (aka "change management") has been and continues to be a stumbling block in countless situations. The hoshin kanri (strategy deployment) process, combined with effective coaching, offers companies a way to confront and overcome this challenge; it can be the catalyst for achieving sustainable organizational transformation.
Understand the Context
Before we delve into the synergies generated by combining strategy deployment and executive coaching, context is required. The honor of becoming a coach to senior leaders (or anyone else, as a matter of fact) is earned with humility and hard work, regardless of where you sit inside or outside the organization. First comes the recognition that we know very little, if nothing at all, and the desire to learn what we do not know drives us to study intensely and experiment relentlessly to test our hypotheses. Trials will inevitably come with errors, and we must be willing to bear those scars, not hide them. The courage to venture into uncharted territory is our ticket to earned respect and the invitation to coach others through their journey.
Now comes the matter of leading an organization through a lean transformation and understanding senior leadership's role in steering and participating in a hoshin process.
Overcome the Fear of Change
I am no psychologist — a recovering engineer, at best — but I have learned, the hard way, indeed, that without intrinsic motivation, there is no catalyst for change, no way to overcome our inherent resistance to change. This resistance doesn't arise from a fear of change itself; it stems from our fear of the unknown of what lies ahead. Even the worst situation can become comfortable compared to an alternative that may be worse.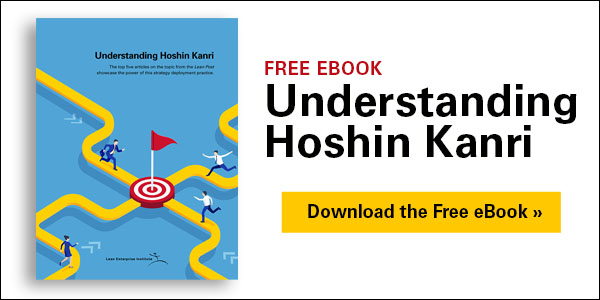 The process of hoshin kanri demystifies such uncertainty by providing a structured way to walk the path while it is being co-created. The approach brings everyone together to design (plan), experiment (do), adjust (check), and act the way forward (using PDCA).
It can be an exciting and frightening experience at once, and I cannot downplay the fact that hoshin kanri — or any process to effect transformational change — is an emotionally charged process of co-creation, fraught with obstacles and challenges. Hence, executive coaching is vital to support leaders who are engaged in facilitating hoshin kanri. These leaders need guidance as they move through this challenging process to help them effectively coach their team members and, in many cases, teach them how to coach others.
The process of hoshin kanri demystifies such uncertainty by providing a structured way to walk the path while it is being co-created.
The coaching provides leaders with a mirror to reflect upon their effectiveness as enablers of the hoshin kanri transformation process. Effective executive coaching heightens leaders' awareness and understanding of what is happening in the moment. It reminds them of their own struggle and how their coach helped them overcome the challenges — and thus, how they can help their team members overcome theirs.
Develop People
Coaching within the hoshin process supports the leader in conducting a hoshin and coaching others in the process. In my journey as a lean practitioner, I have had the privilege of supporting executives who are leading a cultural transformation in their respective organizations using lean thinking as a platform for change. Fortunately, they all recognized that developing people is the key to transformation. As significantly, they understood that it is their responsibility to guide and support their team members in their personal growth.
Not all leaders have experience or education about how to coach team members. Most likely, they are accustomed to telling their direct reports what to do, sometimes instructing how. The hoshin kanri process provides an opportunity to jointly develop a strategy-to-execution roadmap, aligning and adjusting along the way, even when it means "we'll figure this out together."
Inevitably, most people I have coached struggled with the mechanics of the practice routine (the Kata) and the time and effort it takes to master this new skill. Their desire to attain significant sustainable change is constantly strained by the need to show tangible short-term results. The reflex to use tactics that served them well in the past is hard to control, let alone overcome.
Trust that the hoshin process will yield transformational change if we successfully engage the leaders and, in turn, most of their team members through coaching and collaborative work. The energy level generated is palpable, and progress accelerates as people begin to feel their voice heard, the purpose is clearly articulated, and shared understanding is achieved.
Finally, staying the course during the difficult initial phases of the hoshin kanri process is paramount, making executive coaching even more critical during this time to reinforce the positive signs and inspire confidence in the exercise's intent and validity. Ongoing executive and team member coaching ensures the organization sustains initial gains and establishes a cadence of continuous improvement.
What to Do Next?
Join us for Hoshin Kanri Remotely: Aligning and Executing on Your Organizational Objectives. Through this nine-week learning experience, you will sharpen your leadership skills and develop a deeper understanding of this approach to strategy development and deployment.
Hoshin Kanri Remotely:
Aligning and Executing on Your Organizational Objectives
Join us for a live online course to sharpen your leadership skills and discover a proven method for successfully executing your strategy.