Today, lean thinking in higher education is uncommon. As a rule, institutions that teach lean continuous improvement in their academic curricula or that have centers or institutes to educate the public struggle themselves to be practitioners in their own administrative processes. There's the challenge of teaching lean thinking and the challenge of practicing it ourselves in the administrative processes of a university system.
In 2008, when Michigan Technological University's own lean journey began, President Glenn Mroz introduced the principles of lean thinking to his administration and asked that a transformation begin at the university. Mroz knew what Balzer pointed out in Lean Higher Education (2010), which is that institutional processes link to the overall success of universities and directly benefit all constituents, particularly students. Our intent was to begin this journey by first using lean thinking in our everyday operations and also begin exposing students to lean principles through participation in improvement events. This directly aligned with our directive to "prepare students to create the future." It also aligned with our strategic intent of distinctive and rigorous, action-based, experiential learning, responding to the needs and challenges of the 21st century.
At Michigan Tech, we've found many compelling reasons to seek out a continuous improvement methodology we can use as a foundation upon which students could build academic and career success and that would also be effective in improving our own administrative processes.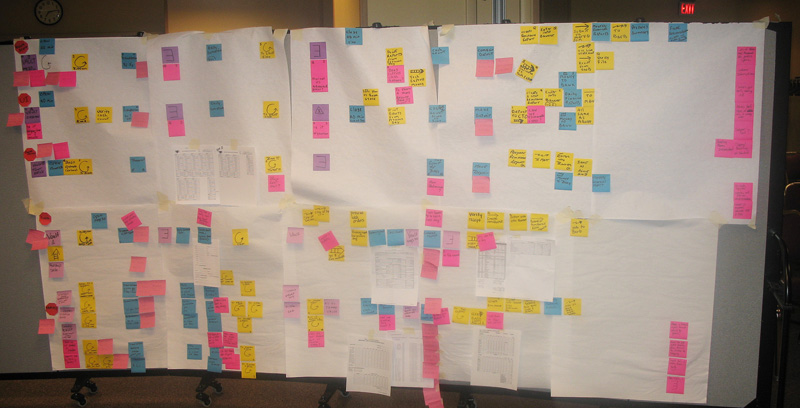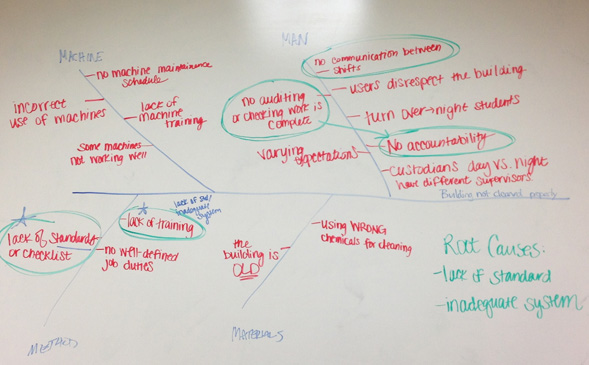 Here's where we've focused our energies:
Accreditation: The University's accreditation is dependent upon demonstrating continuous improvement in both academic and administrative areas. We're working on creating and sharing demonstrable methods for improving administrative processes. Demonstrating and measuring improvements builds our credibility and strengthens the assurance argument necessary for university accreditation through the Higher Learning Commission.
Cost of Education: As is the case in many states, Michigan has experienced shrinking state allocations for higher education. To keep the resulting rise in tuition costs as low as possible, employing lean continuous improvement methodologies help contain costs. Cost savings that can be used to off-set tuition increases have been generated through a variety of improvement events ranging from reducing days of inventory on hand in our dining services to reducing fuel costs at our golf course by adjusting mowing patterns and frequencies.
Quality: Improved administrative processes elevate and strengthen the student experience. This is done by saving time, reducing waste, and avoiding cost while delivering the expected service to students. This helps Michigan Tech retain students.
State Initiatives: Since 2010, Michigan Governor Rick Snyder has supported service and process optimization and lean practices through the Office of Good Government. As a state institution, at Michigan Tech we've aligned with these efforts.
Universal application: Lean thinking and practice have daily application in all aspects of the business and academics of the university. Part of our work has been about simply spreading this thinking throughout administrative and academic offices.
Pull: Companies recruiting Michigan Tech graduates have told us they are looking for students with exposure to and proficiency in lean continuous improvement. We've worked to share this information with students through employing students in our Office of Continuous Improvement, by including students in kaizen events, and by sharing lean knowledge through our Leaders in Continuous Improvement student organization
Academic curricula: Most importantly, adopting a continuous improvement methodology integrated with an academic curricula is what makes a difference for students' overall learning experience. Currently, we have 22 quality-related courses on different aspects of lean and continuous improvement are being taught as part of a diverse curricula on our STEM campus.
Successes So Far
Michigan Tech's lean transformation has its foundations in a network of over 20 trained improvement facilitators from all areas of campus. These volunteers range from hourly employees to executives who work to facilitate improvement events requested by departments. Initially the university engaged outside consultants to provide facilitator training, some of which was funded by the Federal Mediation and Conciliation Services through a labor/management-focused grant. Currently an Office of Continuous Improvement is staffed by a Manager and a team of student Process Improvement Coordinators that provide training and support the lean efforts on campus.
A student organization called Leaders in Continuous Improvement was formed two years ago and continues to grow in size and interest. Over 650 university employees have been exposed to lean thinking and over $250,000 in savings have been identified through formal improvement events.
Ongoing Challenges
The culture of higher education poses challenges when rolling out a lean transformation. Some are unique to higher ed and others are more universal. Here's what we've experienced:
Unwillingness to view students as "customers"
Difficulty translating lean's manufacturing history into knowledge work
Discomfort in learning as you're doing
Focus on the visible use of tools instead of the underlying thinking
Oversimplifying Lean as the application of just one or two tools (5S and visual displays)
Push back on standard work as "dumbing things down" and wringing out the creativity and intellectual freedom
What's Next
We plan to continue designing courses to prepare lean-certified students who are ready to work in industry. This will require the endorsement and participation of academic leadership, as well as continuing to also practice lean improvements in the administrative processes of the university. Our goal is to serve as a co-curricular learning laboratory for students, teaching lean thinking while also assisting in the university's success.
We'd like to hear from you. Do you think that higher education can provide students with an immersive experience that brings together both the academic curriculum and the co-curricular companion piece of administrative processes and extra-curricular activities? Tell us your thoughts in the comments. We're particularly interested in hearing success stories that we can learn from!