Use of the A3 process continues to grow far and wide. Sometimes effectively, sometimes not. Increasingly, practitioners are recognizing the connection between effective use of the A3 process with strategic planning, people development systems, and as an enabling structure for the creation of intentional organizational cultures.
Previously, we collaborated on two separate Lean Posts exploring the origins of how the A3 became Toyota's go-to process to develop thinking problem solvers. With the launch of Katie Anderson's new book Learning to Lead, Leading to Learn: Lessons from Isao Yoshino, now is a good time to dive more deeply into the topic of A3 and, more specifically, into the training program called "Kan-Pro". In so doing, we hope to deepen awareness and understanding of this pivotal initiative.
Kan-pro is short for "Kanri Nouryoku Program," or "Manager Development Program." As we wrote in 2016, Kan-Pro was a two-year initiative (1979-1980) that trained 1,000 managers from each functional area of the manufacturing company based in Toyota City. We explained how the A3 process became so prevalent in Toyota and how it evolved from its humble beginnings as a tool to tell a PDCA quality improvement story to become a key process for developing managers.
The program was sponsored by Masao Nemoto, the executive who led the introduction of Total Quality Management to Toyota in the 1960s. But the Chief Architect of Kan-Pro was Mikio Sugiura. Isao was one member of Mr. Sugiura's four-person team. Together, they designed and executed Kan-Pro in order to nurture the management capabilities of employees who were at manager (kacho) level and above. They structured the program around the A3 process.
Here is the document sharing the characteristics of Kan-Pro: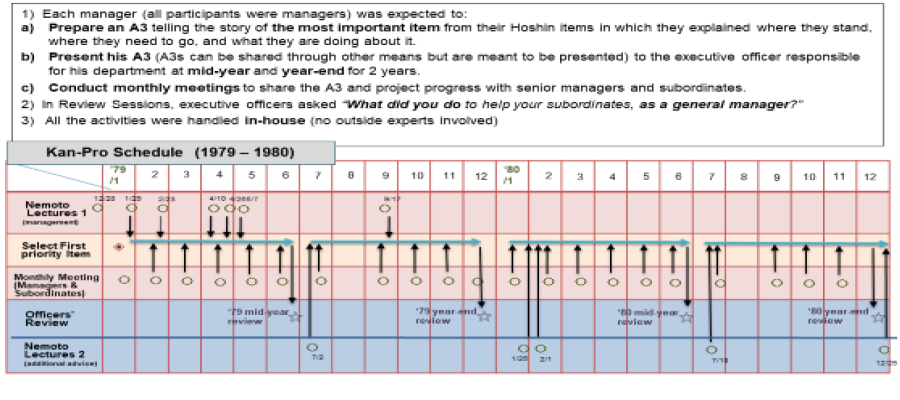 Kan-Pro was instituted because Toyota executives perceived disturbing signals that the company's managers were: a) not managing via the disciplined PDCA that the company had gone to great lengths to establish during its TQM push in the early to mid 1960s, b) not taking the company forward steadily enough c) not solving problems fast enough, and d) not developing capabilities in people deeply enough.
In response, Toyota identified five key skills managers needed to build managerial capability and successfully utilize the Hoshin Kanri process:
1) Planning & judging capability
2) Broad knowledge, experience & perspectives
3) Driving force to get job done; Leadership & Kaizen capability
4) Presentation and communication skills, incl. persuasion & negotiation capability
Of these four management capabilities, Mr. Sugiura designed Kan-Pro to elevate skill in the last two: 3) driving change via leadership and kaizen and 4) communication/negotiation.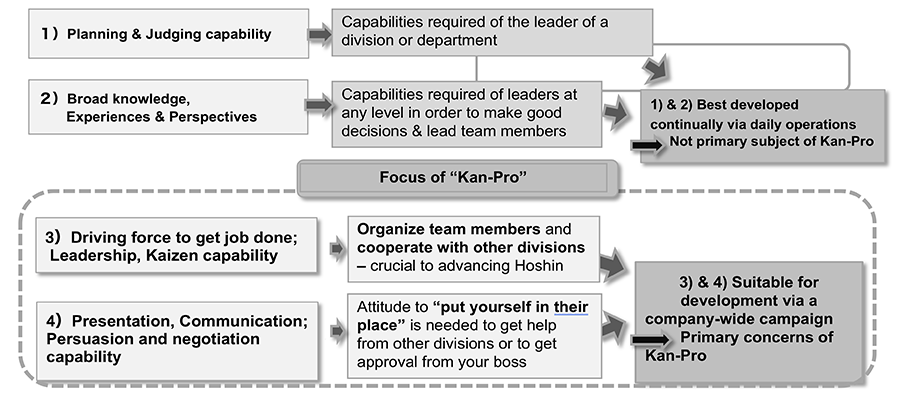 Company executive officers, including Shoichiro, attended four sessions to review each of the A3s presented by the managers. As you might expect from Toyota managers, the officers offered plenty of suggestions. Here is a selection of the officers' comments following the mid-term review in 1979: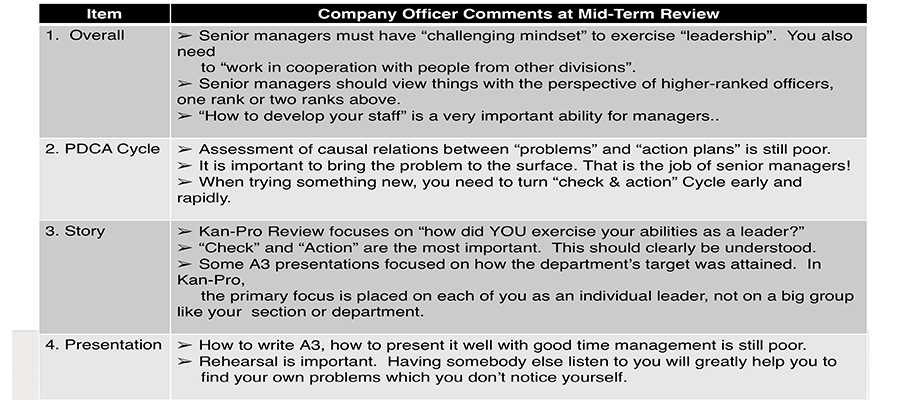 In the end, the officers were generally pleased with the results of the program. Here is a selection of the officers' direct comments during the upon conclusion of the program in 1980, in the categories of 1) role of senior managers, 2) the importance of maintaining a broad perspective, 3) leadership and culture, 4) PDCA.
1. Role of Senior Managers
"How did you develop your own Judging Ability or Planning Ability" was not discussed much.
"When discussing Hoshin items, you need to carefully listen to your subordinates and have a lot of discussion with them.  Communicating with them is a very practical training itself.
"How did you develop your subordinates?", "How do you plan to train your subordinate this year?" was not clearly explained.
 2. Broader perspectives
"Plant Managers need to view things from broader perspectives."
"Many of the topics were things like "working hours" or "product quality", all directly related to their work. We wanted to hear more about topics from broader perspectives."
"We did not hear many about working together with their bosses (the officers)."
"We need to communicate more with our sales people. You, particularly vehicle Chief Engineers, should go out to dealers and customers (go to gemba) to hear real voice and their expectation to us."
3. Leadership and Culture
"Senior managers' day-to-day behavior, attitude, principle and comments have a lot of influence to people who work for you.  Your organization's culture starts with you."
"Senior Managers at Technical Development departments possess high levels of specific knowledge & technical expertise, but you have far to go when it comes to people management."
"Senior Managers at production sites have many team members working for them.  It is important to motivate them and make them feel happy to come to work.  People are our precious assets."
4. PDCA
"Some presenters still talked about "how the job was accomplished".  That is not what Kan-Pro is for.  We focus on, "What did you, as a Manager, do to attain your goal?". Not just did you achieve it, rather, what did you do to achieve it (whether fail or succeed).
"Many people have succeeded in turning "big PDCA Cycle".  Turning "small PDCA Circle" helps to make your organization solid and sound. We need to turn both big and small PDCA cycles (cycles that are long and cycles that are fast).
"In order to attain a good result, you need to develop a good plan.  What is "a good plan"?  It has a long-term viewpoint, company-wide perspectives, step-by-step type of approach, etc.
 "When the result was poor you need to explain whether it is because what has been planned was not performed, or because the original plan was poorly designed. Analysis of any bad result needs to be conducted, starting with "was the plan bad?" or "was the execution bad?"
As you can see, the officers were pleased, but saw much room for improvement. And they were appreciative of the opportunity provided by Kan-Pro to peer inside the very management environment that they were creating and swimming in every day, seeing it from a different perspective. Eiji Toyoda himself joined each report-out session along with his entire executive staff. He knew that the strength of the program would be fully realized if everyone involved learned together.
Tomorrow, we'll shared with you an artifact from 40 years ago, long ago and far away for most of you. Over those years, we have learned how the value of A3s stretches far beyond any short-term benefits that accrue when used as instrumental artifacts. The A3 process can provide all members of an organization the opportunity to develop to the fullest of their potential; and serve as a formal method helping an organization develop the key capabilities to survive and thrive by solving problems to achieve purpose and provide better value for customers. Let's explore further together tomorrow.
John Shook, Ann Arbor Michigan
Isao Yoshino, Okazaki Japan
Developing Structured Problem-Solving and Leadership Skills using A3 Thinking: Managing to Learn Remotely
Join us for a seven-week learning experience and learn how to use the A3 Methodology to solve important business problems. Optional one-on-one coaching package also available.