More than anything else, product development is a people business, and leaders are key. Steve Jobs once famously said, "If you keep your eye on the profit, you're going to skimp on the product. But if you focus on making really great products, the profits will follow." Jim Morgan agrees wholeheartedly, but would add, "if you focus on your people, great products will follow." As a leader, the most important product you can develop is your team. 
Click here for an infographic and a quick-read summary of the guiding principles. 
See the Lean Posts and related ebooks detailing other guiding principles: 
Explore the Principle of Putting People First 
In this month's video, we are fortunate to have three leaders who embody the people-first principle.  
Dr. Lisa Yerian, chief improvement officer at The Cleveland Clinic, talks about the importance of capable and empowered people in creating a culture of continuous improvement.  
Former Ford CEO Alan Mulally shares his insights into the people-first management system behind the historic turnarounds of two iconic, global organizations.  
Jill Miller, Herman Miller Production System manager of learning and development at design icon Herman Miller, talks about the company's famous leadership-development programs. 
Three Lean Posts offer more in-depth information about how and why designing the value stream can ensure new product, process, and service success.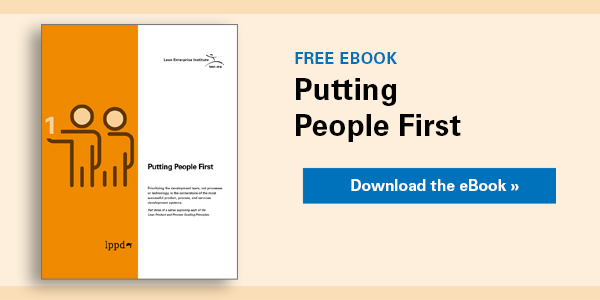 For offline reading, download the ebook (PDF), which features the three Posts and other information, is another way to access these crucial insights. 
Designing the Future Remotely:
An Introduction to Lean Product and Process Development
Join us for a five-day course (three hours per day) to learn how to accelerate the design and delivery of innovative products or services your customers will love.