"Most organizations realize that to achieve even a reasonable time to market, they have to work concurrently across contributing disciplines. But to do this, well, that is to do this without creating a ton of rework, you have to understand the work to be done," declares Jim Morgan, LEI senior advisor for lean product and process development (LPPD). But that's easier said than done, he acknowledges.
That's why Synchronizing Workflows, one of several LPPD guiding principles identified by LEI's LPPD team, is crucial to new product, process, and service development. Led by Morgan, the coauthor of The Toyota Product Development System (2006) and Designing the Future (2019), the team has distilled what it's learned from real-world experience and research into the principles and practices of successful development teams. By sharing the guiding principles, LEI's LPPD team aims to help other organizations worldwide improve their development processes and build a global community that will share their experiences to advance the art and science of creating new value.
Click here for an infographic and a quick-read summary of the guiding principles.
See the Lean Post and related ebooks detailing other guiding principles:
Explore the Principle Synchronizing Workflows
The video below shares excellent examples of two mutually reinforcing approaches to creating flow in development:
Peter Cooper, platform leader of medium wheel loaders at Caterpillar explains how they used product-development value-stream mapping (PDVSM) to reduce waste dramatically and create better flow on a set of time-critical development programs.
Alison Seward, senior program director at GE Appliances, a Haier company, shares her secrets for synching up work across her large development team on a critical new product program.
Three Lean Posts offer more in-depth information about how and why synchronizing workflows can ensure new product, process, and service success.
For offline reading, download the ebook (PDF), which features the three Posts and other information, is another way to access these crucial insights.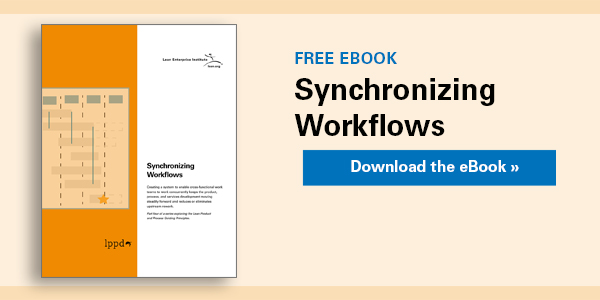 Designing the Future
An Introduction to Lean Product and Process Development.