When lean practitioners tackle a big problem, they use A3 problem-solving to break it into its more minor, actionable components. That's because lean thinkers have demonstrated that significant business problems — including revenue or profit shortfalls, falling market share, an unreliable supply chain, and the like — originate in the value-creating work on the front line. And it's why lean practitioners preach "Go to the Gemba."
Leaders and managers also know that A3 management — the work of overseeing A3 problem-solving — does so much more than merely resolve work-process problems. The practice provokes a mindset change in everyone, recasting the manager from commander to coach, a new relationship that, in turn, reshapes the work environment, replacing conflict and blame with collaboration. As managers work with their teams to eliminate obstacles and frustrating tasks, business results and the work environment improve.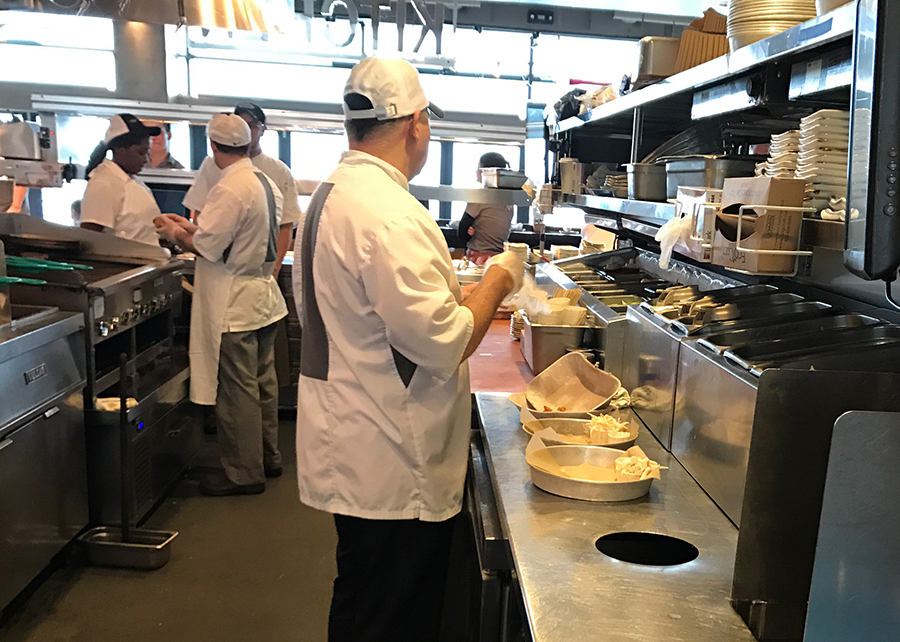 Managers at a flagship restaurant learned these lessons when they used lean thinking and practices to make progress toward closing a nearly 8% profit gap while maintaining or improving its sterling service reputation. Within nine months, the team, working with LEI coaches in a Co-Learning Partnership, increased year-over-year profit by 2.2%, nearly half from reduced labor and overtime costs. (As with many lean transformations, the changes yielded additional savings from the work-process improvements, in this case, from food waste reductions.)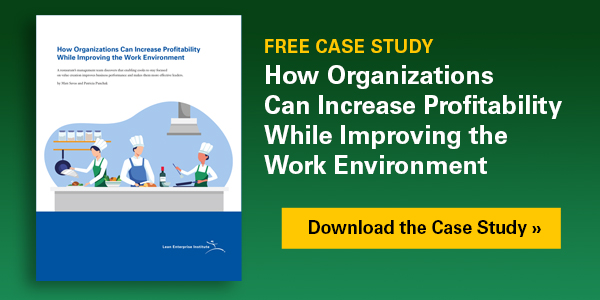 Also, during that time, leaders and workers discovered that lean thinking and practices had transformed their fast-paced, harried, conflict-riddled former workplace into a more purposeful, less stressful, and more productive one.
Understanding the Problem
To start, LEI and the restaurant's director broke down the more significant and vague problem of poor profitability into its more actionable components. They discovered that labor and food primarily drove the additional costs during the summer surge. Further, they documented how labor costs soared during the summer as managers hired more cooks and staff to manage the seasonal rush. Management typically increased the number of cooks from 14 to 15 per shift in the off-season to 19 to 20. Overtime also increased, as cooks would arrive early between 7 a.m. to 9 a.m. to afford sufficient time to prep food and tool their stations before lunch service began at 11:30 a.m. Moreover, changing regulations meant higher minimum wages for staff and increased overtime hours for assistant managers. As a result, cost increases were outpacing revenue growth 6% to 3%.
The restaurant leaders were skeptical that they could fine-tune their food replenishment system to reduce food waste or avoid their spring hiring frenzy during the summer rush. After all, the kitchen could barely keep up even after the hiring spree. Still, they agreed to continue investigating to discover the problems' underlying, or root, causes. LEI coaches began by challenging management with a simple question: What is work?
The management team carried out a detailed work analysis, conducting a spaghetti mapping exercise during a busy lunch service to help the management team learn how to see work versus waste using LEI's "Categories of Work Motion." This exercise helped them identify how often cooks left their stations to do nonvalue-added work and how much time they spent not doing the value-added work, cooking. Critically, they also identified why cooks left their stations: to restock product, deliver finished dishes to the expediting station, and retrieve clean dishes, among others. 
The spaghetti-mapping exercise confirmed for management that the solution to their profitability problem wasn't that they needed more cooks — or even "better" or more efficient cooks. Instead, they needed to eliminate what was getting in the way of the cooks doing their job and create a better work process that kept cooks cooking.
The restaurant's former executive chef explained the revelation: Before "when a cook fell behind, we thought it was because he just wasn't good enough and we needed to replace him; this was naïve," he says. "When we began to look closely at the work and break it down between value-add, non value-add, and waste, we realized the jobs were hard to do successfully and frustrating for workers. It was really the process that was causing failure, not the individual." 
Improving a Process: A Just-in-Time Kitchen
The management team and LEI began by making a change designed to keep cooks cooking: establishing an on-demand prep station that would replenish product continuously for the entire kitchen and creating a new position — the lineback — to deliver products to cooks from the prep station.
When we began to look closely at the work and break it down between value-add, non value-add, and waste, we realized the jobs were hard to do successfully and frustrating for workers.
In the previous process, each morning, fifteen cooks arrived between 7 a.m. and 9 a.m. to prep their stations for a day of service beginning at 11:30 a.m. Each cook was responsible for prepping his station's mise en place — a French culinary term meaning "everything in its place." For example, the sauté cook heated water for pasta, chopped garlic, shredded pecorino cheese, among myriad other tasks. The cooks competed for scarce space, tools, and products, leading to a chaotic environment. They spent as much time gathering ingredients, moving up and down an elevator to access a second-floor cooler, and bumping into one another as they did preparing their stations.
Moreover, cooks could not accurately forecast demand, as they did not know what customers would order. Fearing stockouts during service and "getting in the weeds" — falling behind in restaurant-speak — cooks tended toward over-preparing, especially product that was time-consuming to prepare. 
The cooks' fear of this situation is a quintessential example of the problems lean thinking and practices reveal and systematically address. The dreaded scenario is a problem that everyone is aware of yet doesn't "see" or acknowledge and so is handled via workarounds by the person completing the task. Unfortunately, such workaround "solutions" usually cause other problems in adjacent work processes, which also tend to be overlooked or accepted as inevitable.
For example, when the chefs over-prep ingredients, some of which they throw out if not used that day, or as they work at an over-stocked station, reaching around and over more items than necessary, they're wasting their time and increasing physical strain. 
Without a systematic plan to ensure cooks never run out of ingredients during service hours, it's understandable that they would overproduce to avoid falling behind — and being blamed for — delays in serving the customers. And at the same time, it's also understandable that the cooks may accept stockouts of some prepped ingredients or the need to throw away others as a lesser problem because those issues do not impact their ability to deliver orders.  

For instance, shredding pecorino cheese requires setting up a Robot Coupe, slicing up a block of cheese, shredding it, and storing it. Doing this in the middle of a busy dinner service would leave the sauté cook desperately behind, so he would shred enough cheese for up to four days of service. Because the cheese took up precious space in the station's refrigerated drawers, there was less space for other critical ingredients. For example, he may have just one pan of chopped asparagus, leaving him at risk of running out. As a result, cooks often had too little of some ingredients and too much of others. 
The management team addressed the chaotic prep process with the new on-demand prep system. With the new process, each station stores only two pans of prepared product for most ingredients: one pan designated as the "working pan" and the other as a "backup pan." In addition, depending on a product's sales velocity and prep lead time, they store more pans in a walk-in cooler.
For example, on average, the sauté station receives 36 orders requiring chopped clams for a busy day. Since each pan holds 15 portions, the station requires three pans to complete a day of service. The lead time to prep chopped clams was less than a minute, as it was a matter of emptying a can into a pan. Consequently, they keep two pans at the sauté station and none in the cooler.
Another example is the linguini, which requires eight minutes to parcook. Since the sauté station typically sells 68 portions per day and each pan holds 10 portions, the station requires seven pans to complete a day of service. Because of the lead time to prep, management decided to maintain two working pans and a backup pan at the station and store six in the walk-in cooler.
When a cook finishes a working pan, he places the empty pan on a blue tray at his station, signaling the required replenishment, and then pulls from the backup pan. Meanwhile, the lineback (a role comparable to a barback in pubs and bars and waterspider in manufacturing plants) retrieves the empty pan, places its product label on the prep cook's preparation board, retrieves a pan from the walk-in cooler, and places it in the cook's station. The lineback observes a fixed route through the kitchen every 10 minutes. This process ensures the cook never leaves the station and can focus on cooking.  
At the same time, the prep cook replenishes the products as indicated by the labels accumulated on the preparation board. This process ensures that the kitchen only produces what customers have consumed, eliminating the risk of spoilage while ensuring the cooks always have what they need to serve customers.  
Reassigning current staff members to the on-demand prep station and lineback positions enabled just-in-time delivery of product to the cooks' stations. This change reduced raw material (ingredients) and work-in-process (pre-prepared recipe components) inventories, which in turn decreased scrap (spoiled food).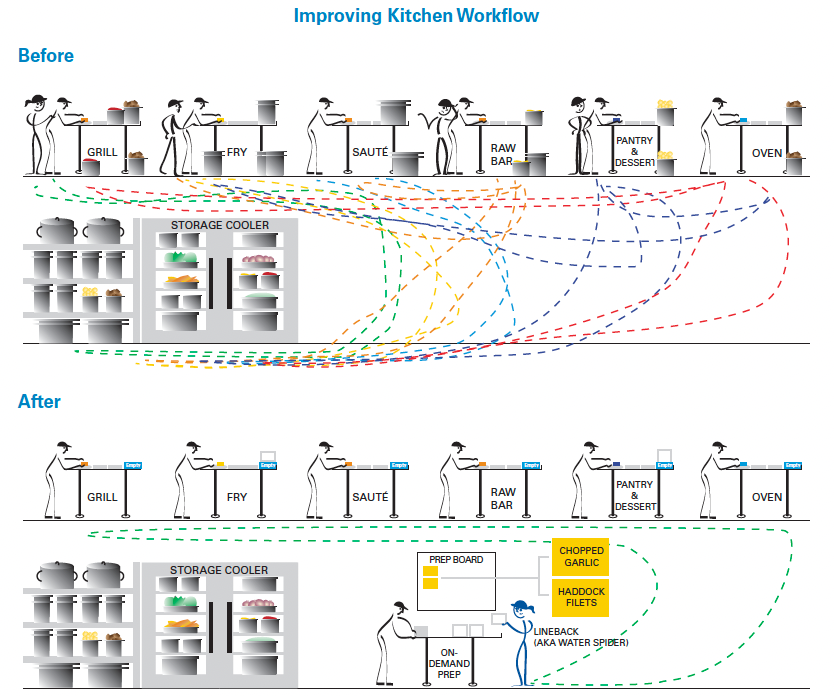 Testing the New Process
The new system got an unexpected test in mid-April, a typically slow time of year, when a hot and sunny Saturday filled the restaurant. Management had yet to hire its army of summer cooks, which meant a crew of 15 was challenged to serve peak summer demand for a day when it usually would require twenty. Not only was the service successful, but the following morning, the restaurant was quiet. A busy dinner service typically emptied product from the restaurant, requiring a heroic effort to restock all stations between 7 a.m. to 11:30 a.m. the following morning. However, because prep happened continuously throughout the day, the service stations remained stocked.  
Critically, the impromptu test confirmed that the work process improvements they had made would enable them to meet the summer surge without the usual hiring spree. So, they elected not to hire additional cooks for the summer, instead opting to retain a staff of 15 cooks plus a lineback and adjust the start times for cooks from between 7 a.m. and 9 a.m. to 10:30 a.m., which reduced overtime outlays. Savings from these decisions fell to the bottom line.
However, more surprising to everyone was discovering that not hiring additional cooks during the summer rush wouldn't cause the staff to work harder. Indeed, the work process changes had made the work easier and reduced the frustrations inherent in nonvalue-added work — the wasted time spent searching for the things they needed to do their value-creating work.
Recalling the day, the restaurant's former kitchen manager admits, "Obviously, everybody was a little frantic and needed a little bit of coaching, but we had so much more time to do our jobs — what our jobs were intended to do. So, it was really, really nice to see, for sure."
The test also demonstrated the effect A3 management and problem-solving have on the work environment and employee engagement. For example, former kitchen manager notes that the day after meeting the challenge of the unexpected rush, he saw a lot of buy-in from the staff, adding that they were saying things "like, 'I can't believe we just did this,' or 'what else can we do?' and 'let's keep going.' So it was cool." 
Developing People and Changing Leader Behavior
For the kitchen manager, learning with LEI how to work with the cooks to address issues the lean way was transformative, saying he is starting to introduce the practices in his new job. Once he experienced the lean approach — going to the gemba to see and understand the work, working with and coaching the cooks and other kitchen staff to resolve problems — he understood the value of building the problem-solving capability of the team.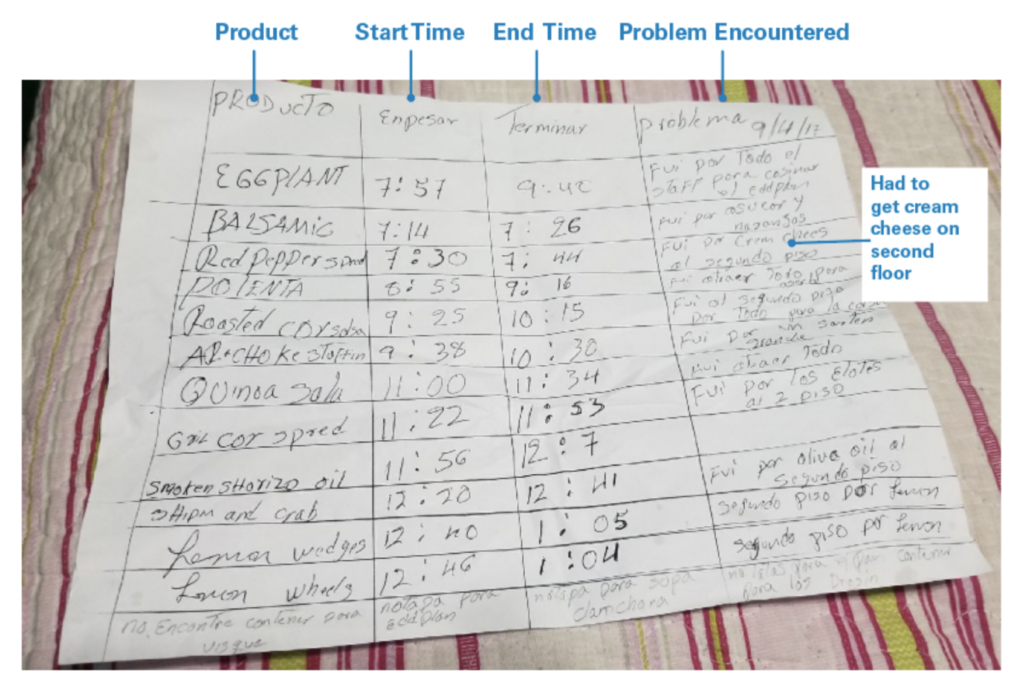 When faced with a problem, "it's so easy in our industry just say, 'we need to change them,'" explains the kitchen manager. With lean thinking, however, you look at the processes and how to fix them." This mindset change is precisely what lean thinking teaches, according to LEI President Josh Howell. "Lean leaders frame problems as a function of process and not people. If a line cook falls behind, we don't blame the cook," he explains. "Instead, we observe and interrogate the process. What is getting in the way of that cook's success? Then we try to improve it."
The lean approach to leadership is "so powerful," because not only are you gaining respect and credibility for yourself; you're also making their job and their morale so much better along the way.
The lean approach to leadership is "so powerful," the kitchen manager adds. "Because not only are you gaining respect and credibility for yourself; you're also making their job and their morale so much better along the way."
For the executive chef, the mindset change required of leaders and managers as they adopt lean thinking and practices is fundamental. Before getting lean coaching from LEI, "our culture was 'Management knows what's wrong.' We just attacked things without ever taking time to understand problems," he says. "Over time, we learned to be humble and appreciate the cooks. We realized that by working in tandem [with the value-creating staff], we could actually solve problems and improve the [work] environment."
Developing Structured Problem-Solving and Leadership Skills using A3 Thinking: Managing to Learn Remotely
Join us for a seven-week learning experience and learn how to use the A3 Methodology to solve important business problems. Optional one-on-one coaching package also available.